First time
DISCIPLINE
Students are asked to remain in the room for the duration of the class. Leaving the room disrupts the class and the concentration of other students. As a beginner, the best way to do this is to take it easy! You have your whole life to do the series, it may take a while! The yoga room should be quiet before, during and after class.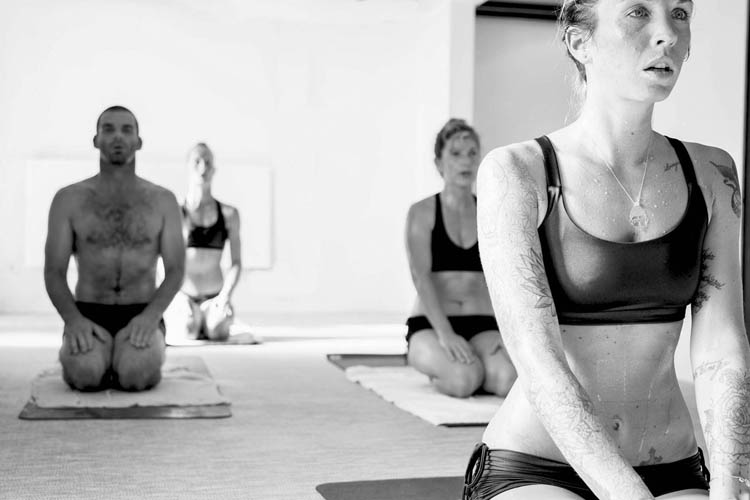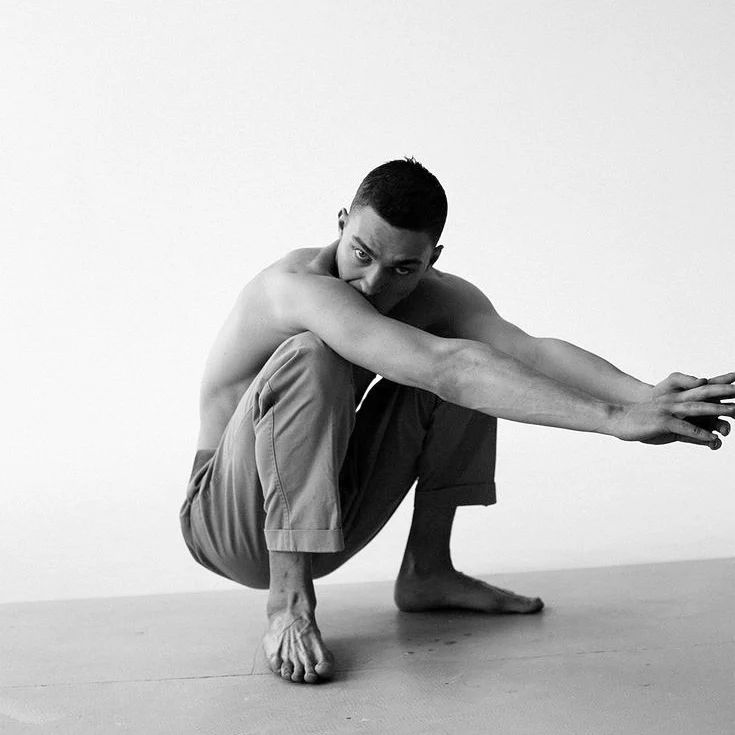 The essentials before / during / after the practice
BREATH CONTROL
Except for the two breathing exercises, always breathe in and out through the nose. Breathe calmly, quietly and continuously, never holding your breath. Focus on your breathing at all times, before, during, and after each posture. This may take some time, especially in the beginning when you also need to learn the postures. Over time, good breath control will allow you to have a stronger and deeper practice.
ALIGNMENT
Yoga is by no means a performance: if you try to go too fast, too far in each posture, you risk losing the right alignment very quickly. There will always be students in the room who will develop a more advanced expression of the postures than yours, so don't focus on them, focus on you! It is the quality of your alignment that will allow you to progress in the postures, to improve your body, and thus to obtain all the benefits of Yoga. The important thing is you, your body and nobody else's!
CALM AND STILLNESS BETWEEN POSTURES
As you come out of each posture, stay as still as possible, with calm and continuous breathing. Any unnecessary movement will prevent you from regaining your composure and more energy for the next posture. The stillness of the body between postures develops your concentration, your ability to listen to your body and your determination to go beyond your limits.
INJURIES/SPECIAL MEDICAL CONDITIONS
If you are injured, inform your teacher when you check in at the front desk. Do not push past the pain; pain is a message from your body to release tension. Bikram Yoga can help heal you only if you listen to your body.
STAY IN THE ROOM FOR THE ENTIRE CLASS
Concentration is an important component of Bikram Yoga, and while each student remains focused on his or her own practice, the group energy is increased tenfold and benefits everyone individually when everyone is working together at the same pace.
Leaving the room is very disruptive to others, negatively affects the energy of the group, and is especially difficult for students who are still beginners and more susceptible to this type of distraction.
Remember to go to the bathroom before class, if you can't do otherwise, leave between postures, making sure the teacher sees you leave the room. When you return to your mat, do so between postures as well.
Practice on an empty stomach and arrive well hydrated.
It is recommended that you do not eat for at least 2-3 hours before class on practice days and arrive well hydrated. Drink at least 1.5L of water the day before class. You will be sweating a lot, so it is important to be well hydrated!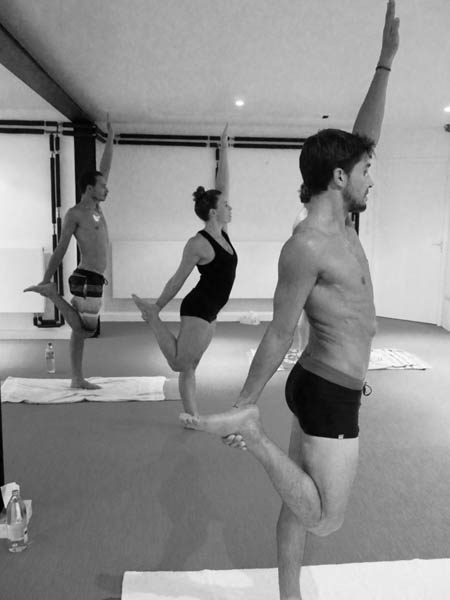 It is recommended to arrive at least 5 to 10 min before the class time (20 min for the first time).
1 Classes start on time and latecomers are not allowed.
2 Observe SILENCE in the yoga room, before and after class; enjoy these times of meditation!
3 Avoid bringing any personal items into the yoga room. No phones, your attire in the yoga room should remain appropriate. Shorts for men, shorts + tank top/armor for women. Preferably choose soft/strech materials and close to the body.
4 Feel free to shower before class (available in the locker room), and avoid wearing anything too fragrant, which might disturb other students.
5 In the studio, we say YOU! Keep your smile in all circumstances, you are doing Yoga, you are there to do yourself good!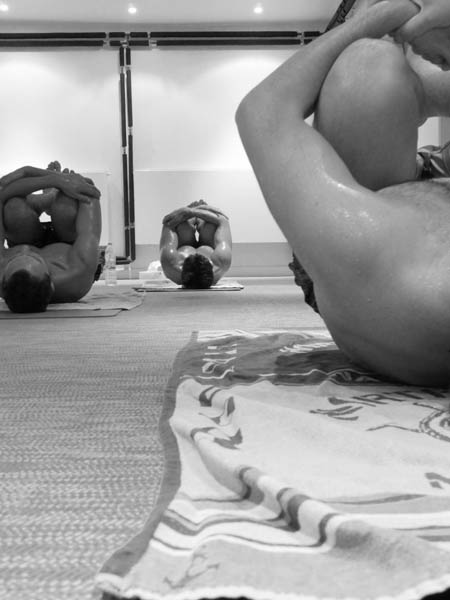 Bikram Yoga is a dynamic series of 26 postures framed by 2 breathing exercises, lasting 90 minutes and practiced in a room heated to 40°C. The series has been scientifically designed to work the entire body (muscles, tendons, ligaments, organs, systems), with each posture preparing the next. At the end of the class, the body is stimulated, strengthened and cleansed.
Heat warms up the body more quickly, allowing the muscles to be stretched deeply and safely. Heat also causes significant sweating, which helps to eliminate toxins from the body. It increases the speed of blood circulation in the body, for an optimal cardiovascular workout and a very good re-oxygenation of the whole body.
WHAT IF I CAN'T STAND THE HEAT?
The heat may seem very surprising the first time, or even difficult to bear in the middle of class, don't worry, it's normal! Do not hesitate to sit down quietly and come back to the series when you feel better. Very quickly, the heat will seem indispensable and the only time you will notice it is when the room is not warm enough, don't forget that the heat is an ally of your practice.
I have never done yoga, I am not very athletic, am I able to practice Bikram Yoga?
Of course you can! The series is designed for beginners. Each class follows the same sequence of 26 postures, always in the same order, regardless of your level, whether it's your first time or you've been practicing for years. The key is to try to do each posture, in the right alignment; how quickly you progress will depend on how often and how regularly you practice, but you will progress! And probably much faster than you think today!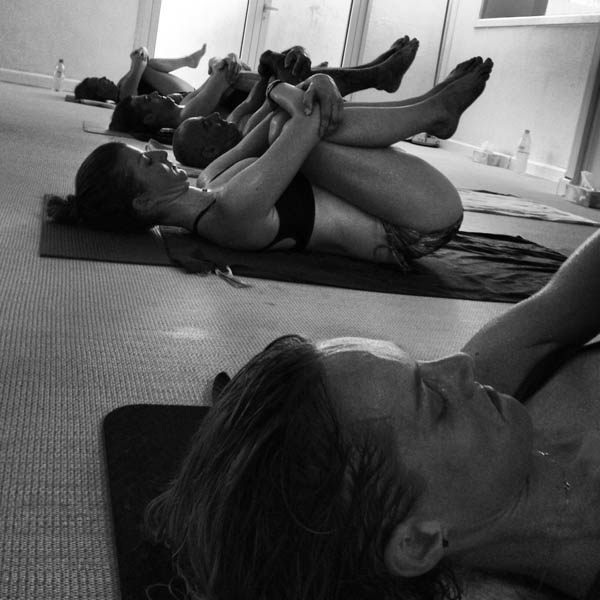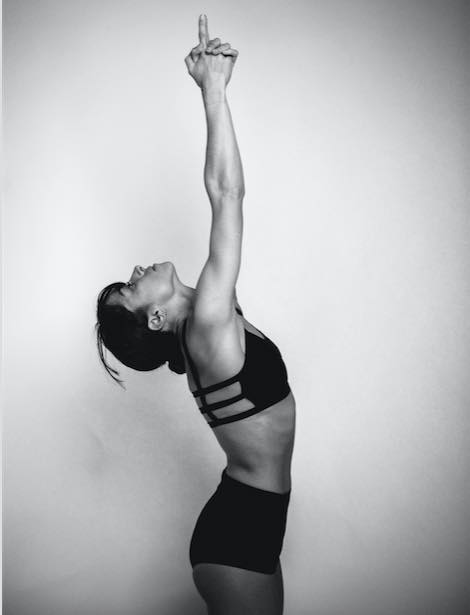 HOW OFTEN SHOULD I PRACTICE TO FEEL THE BENEFITS AND EFFECTS?
Ideally, it is recommended to practice 3 times a week, so as not to leave more than 2 to 3 days between each session, and thus capitalize on the work done. At the beginning, especially when your physical condition has not yet returned, it is already very good to practice twice a week.
If your schedule is too busy and it is difficult for you to practice regularly, Bikram Yoga can also be practiced as a "cure", i.e. one class per day for a limited period of time. We offer subscriptions for this purpose. The ultimate challenge is the 30-day Challenge: 30 days of practice in a row, which not only gives you the opportunity to make strong progress in your body and your practice, but also gives you the chance to practice with a lot of confidence.
We propose a Discovery Offer at 30 € for 15 consecutive unlimited days; this is the best way to discover the practice of Bikram Yoga. We advise you to come at least 3 or 4 times during these 15 days, in order to have an idea of the benefits felt.
We then have a system of class cards and unlimited subscriptions, very flexible, which correspond to all types of needs. See the "Rates" section.
DO I NEED TO MAKE A RESERVATION?
Yes, contact us or book directly by clicking on the book button
Your yoga outfit, a bottle of water and 2 good sized towels (1 for the mat, 1 for the shower). You can rent towels and mats (2 € per product), buy your water bottle and other drinks on site.
SHOULD I EAT OR DRINK BEFORE CLASS?
Drink plenty of water before class; the more hydrated you are, the easier it is to sweat afterwards. According to doctors, the daily water requirement is about 2 liters without any particular physical activity; feel free to drink a lot more on practice days. It is strongly advised to practice on an empty stomach, so do not eat at least 3 hours before class.
WILL BIKRAM YOGA HELP ME LOSE WEIGHT?
Yes, like any regular physical activity, Bikram Yoga will help you lose weight. The key is to combine the frequency of your practice (at least twice a week) with regularity (every week).
DO I NEED TO BE IN SHAPE TO PRACTICE BIKRAM YOGA?
No! The regular practice of Bikram Yoga will contribute greatly to your fitness; the main thing is to go at your own pace, to do what you can in all honesty on the day you come to practice. It is by practicing regularly that your body will gradually open up, improve, regain its strength and flexibility, and that your breath will return.
I'M NOT COMFORTABLE WITH MY BODY, I'M ASHAMED TO BE IN MY BATHING SUIT, IS THE PRACTICE FOR ME?
Of course it is! Bikram Yoga is not a practice where students come with an attitude or any kind of judgment. The goal is to feel good, no matter what your body, background, occupation, age, skin color or sexual orientation.
ARE THERE ANY CONTRAINDICATIONS?
If you have significant health problems, particularly cardiovascular disease, it is advisable to seek the advice of your doctor, as with the practice of any other physical activity that increases the heart rate during exercise. If you are injured or pregnant, it is imperative that you notify the instructor when you register.
WHAT IS THE GUARANTEE OF QUALITY TEACHING?
The teachers at Yoga Bikram Hossegor have all completed the very intense training program conducted by Bikram Choudhury in the United States and have all been certified by Bikram himself.